Going into dance competitions can be nerve-wracking, regardless of whether you've been at the dance studio one season or five. Naturally, you want to do your best, but what if you trip up a little in your routine, you have a costume 'malfunction' or you forget to bring a shoe or a prop? While most of the time these issues don't occur, they can still be major worries until your routine is over. Luckily, there are some easy ways to prepare yourself so these issues don't happen. Consider these tips on how to prepare for your competition.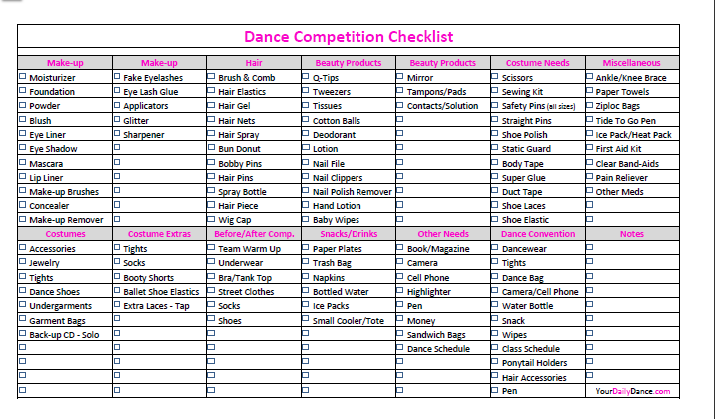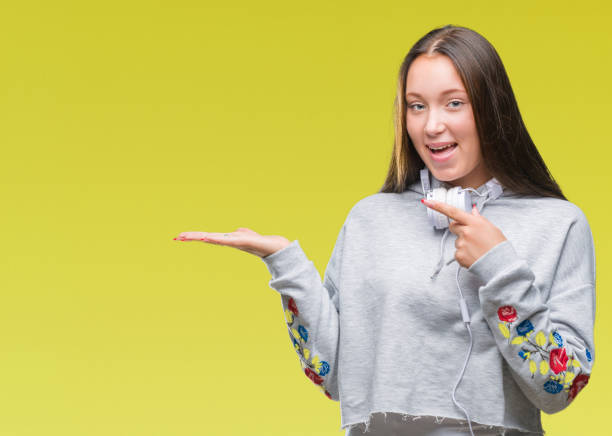 BEFORE GETTING TO THE COMPETITION
o Check and double check that you have each and every part of your costume. It helps to make your own checklist beforehand, so that you always a quick way to check that you have everything packed!
o Make sure that your name is on every piece of every costume, including shoes!
o Stock up on the little things that no dancer should ever be without – bobby pins, safety pins, hairspray, extra elastics, sewing kit, etc. Nearly everything can be found at dollar stores, and is guaranteed to be put to use at every competition!
o Pack a water bottle and some small healthy snacks in your dance bag. Competitions can run late, and you want to keep your energy up!
o Most importantly, take care of yourself! Get plenty of rest, eat nutritious meals, and try not to get too nervous. You will always dance your best when you are feeling your best!
AT THE COMPETITION
o Be in the change room completely dressed and ready to go (makeup, hair, etc. all done) at a minimum 1 hour earlier than your scheduled dance time. This means that unless you driving to the competition in costume, you need to allow time at the venue to get dressed. You also will need time to warm-up, run through the dance, and get focused.
o Share the dressing room and rehearsal space. Competitions are busy places and the dressing rooms fill up fast. Just remember that everyone is a squished as you are, and try to share as best as you can.
o Be kind while backstage and practice proper etiquette when in the audience. . Dancers from other studios love to hear "great job!" or "good luck"! It's okay to cheer louder for your own teammates, but all of the performers deserve your applause. Avoid yelling out names of dancers or cheering excessively loudly. Similarly, respect fellow dancers by remaining quietly seated throughout their performance.
AFTER THE COMPETITION
o Double check that you have re-packed all the pieces of your costume.
o Tidy up your dressing room space as best as you can.
EXTRA GOODIES
TRICKS OF THE TRADE
o Clear nail polish works wonders to stop a run in your tights. Make sure you have some packed with your makeup in case of emergency.
o If you are wearing black tights, bring a black Sharpie marker with you. If you get a hole in your tights,you can 'fill it in' with the marker! It sounds ridiculous, but it works!
o Of course, the two above suggestions won't be needed if you pack an extra pair of tights;).
o Eyelash glue is not just for false eyelashes! In a pinch, it could be used for jewelry, rhinestones, even to re-attach the heel of a jazz shoe!
o Clear/invisible elastic and tape is a dancer's friend. It can be used to secure most halter, strapless, or backless dance costumes. Pack some extra though, as it breaks easily.
At EDA we offer our students the opportunity to dance competitively. We strongly believe in training all of our dancers to be well rounded dancers and encourage them to train in all styles. The intention for the Competitive Team is simple: to provide these dancers with opportunities beyond the four walls of their studio, to inspire, to motivate, to challenge, and to enrich each one of them. "Competition" is not just about winning, it is about inspiring and striving to be the best you can be, developing lasting friendships and about sharing your passion.
It is our hope that our competitive students will realize that authentic success comes not only from reaching or exceeding their specific performance goals, but with the satisfaction of knowing they have done their best.
We're big on supporting each other and make that an important goal for all of our dancers and parents!